It's no secret that I'm a fan of a low carb lifestyle, not necessarily a keto lifestyle. When I eat too few carbs, I'm just not a happy camper. The low carb life gives me the freedom to eat more food while still losing weight. If you are like me and have no thyroid, or have thyroid issues and have trouble losing weight, consider trying a low carb diet. I'd love to know how it works for you!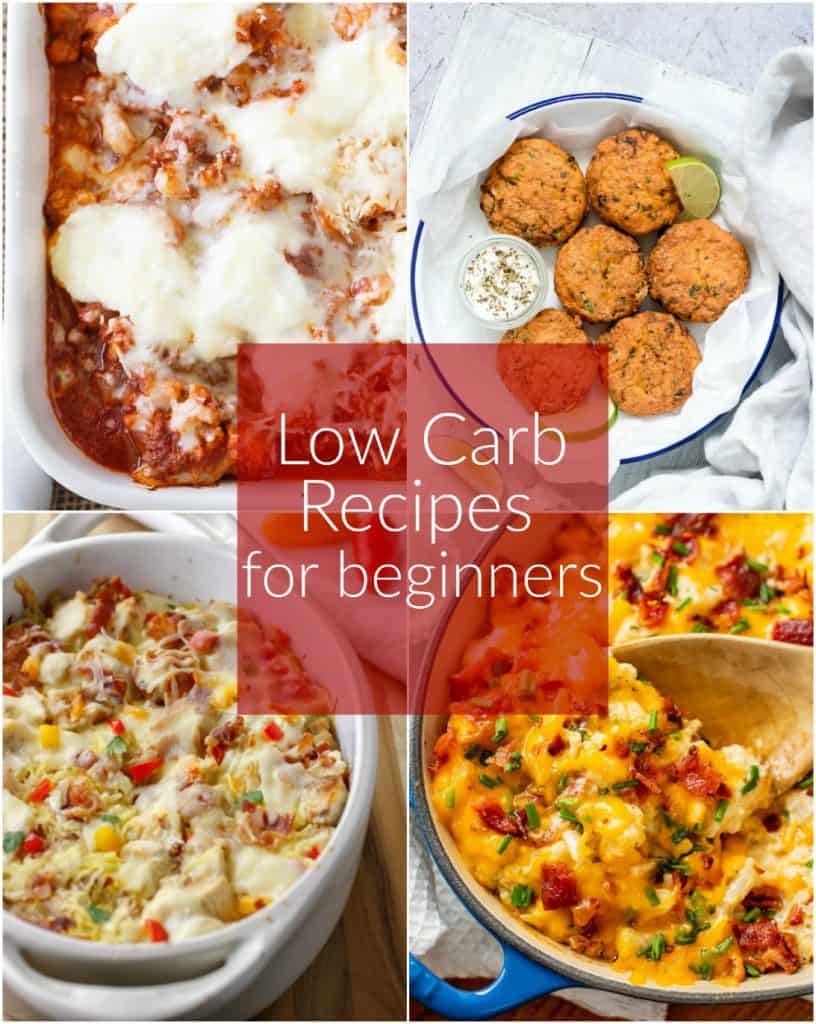 Best Low Carb Recipes for Beginners
These low carb beginner recipes are perfect if you're just starting to eat low carb. I feel like it's super important to find recipes that taste good – so you won't see any cauliflower "mashed potatoes" here!
Note: Some are too high in carbs for keto but others will be okay. I included the amount of carbs by each recipe so you know before you click. In order to be considered "low carb", I keep my recipes under 20g carbs.
1. Low Carb Pot Roast – 2g carbs, from Foothills Mama (hey, that's me!)
2. Cheesy Cauliflower Casserole – 4.5g carbs, from Casserole Crissy
3. Bacon Chicken Alfredo Bake – 10g carbs, from Beauty and the Foodie
4. Low Carb Ziti – 9g carbs, from Simply Stacie
5. Low Carb Buffalo Chicken Casserole – 5g carbs, from Low Carb Yum
6. Chipotle Barbacoa – 2g carbs, from Wholesome Yum
7. Baked Lasagna Stuffed Peppers – 15g carbs, from Taste and See
8. Air Fryer Salmon Patties – 0g carbs, from Recipes From a Pantry
9. Loaded Cheesy Broccoli Casserole – 7.7g carbs from Food Faith Fitness
10. Cheeseburger Casserole – 3g carbs, from Wholesome Yum
11. Keto Zuppa Toscana – 18g carbs, from Simply Stacie
12. Jalapeno Popper Chicken Casserole – 4g carbs, from Mom Foodie
13. Chicken Fajita Soup – from Ketogenic Woman (no carbs listed but labeled as keto)
14. Dill Chicken Salad – 1.5g carbs, from Peace, Love, and Low Carb
15. Instant Pot Chicken Cacciatore – 13g carbs, from Delicious Meets Healthy
16. Chicken Chili – 11g carbs, from Beyer Beware
17. Instant Pot Asparagus Soup – 13g carbs, from How 2 do Keto
18. Buffalo Chicken Meatballs – from Moma Fit Lyndsey (no carbs listed but is low carb)
19. Italian Tuna Salad – 5g carbs, from Mom Foodie
As I find more low carb recipes, I'll add them to this list! Feel free to leave your favorites in the comments.

Why Low Carb after a Thyroidectomy?
I had a thyroidectomy this year and have heard so many different suggestions on how I should eat. Low carb and vegan diets are the #1 and #2 most recommended. They're basically opposite diets though, so how are you supposed to know which one is best for you? Well, if you want to eat more of a plant-based whole foods diet, vegan is perfect. If you feel better when you eat meat, or just aren't ready to give it up, low carb will be a better option. Both have benefits.
A low carb diet after thyroidectomy is recommended by many doctors and websites, including Livestrong. You may actually gain weight as a side effect of getting a thyroidectomy, so you need to have a diet plan in place before you have the surgery.
Along with a diet that is low in carbs, you'll want to make time to exercise every day (with a rest day each week, of course). You need to be physically active to lose weight after a thyroidectomy, as your metabolism has probably slowed down due to the lack of thyroxine and triiodothyronine in your body. It's recommended that thyroid patients do low-intensity workouts for longer periods of time, like an hour, rather than high-intensity for short periods of time.