Everyone loved my other tea recipes, so I'm hoping this one is just as big of a hit because it is delicioussss.
Peach Tea With Ginger
I love peaches – especially white peaches – and ginger is another favorite of mine. Combining the two crossed my mind one day while I was drinking a cayenne lemonade. I thought, if I can combine lemons and cayenne pepper, why can't I combine peach and ginger? Bam! And it's delicious, too.
Tea in the Instant Pot
You can make wine, so why not peach tea in the Instant Pot? In fact, my friend David wrote a whole book about things you can make in an Instant Pot: DIY Crafts & Projects for Your Instant Pot
Making tea in your Instant Pot is simple, and you don't have to "babysit" your tea while it's cooking. It comes out perfectly, every single time.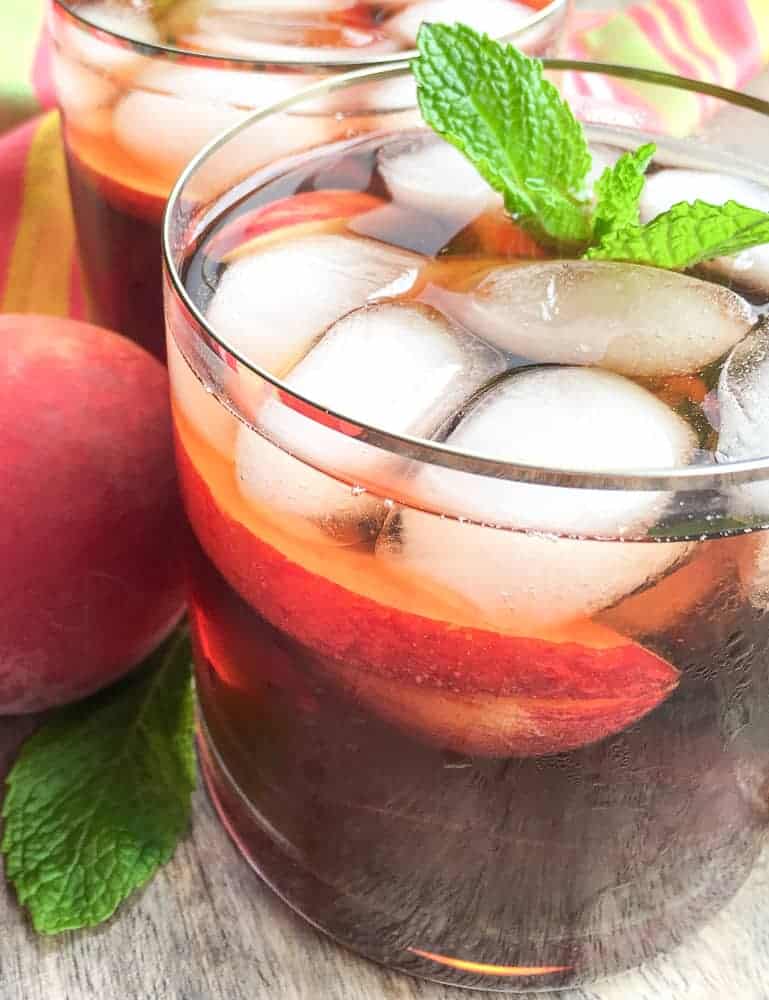 Ginger Health Benefits
Ginger is a root with powerful health benefits. I'm not a doctor, so I'm going to share my personal experience with ginger. I had thyroid cancer and consequently had my thyroid removed. Since then, I've been chronically nauseous – all day and all night, no matter what I eat (or don't eat).
Ginger can:
relieve nausea
help improve appetite
alleviate motion sickness
decrease pain
reduce inflammation
Ginger can be eaten fresh, powdered, dried as a spice, in oil form, or as juice. I like to put ginger in my smoothies and teas, and I even make ginger candies to help with nausea.
Carbs in Peach Tea
Here at Low Carb Nomad, we try to keep everything low carb without sacrificing flavor. Peaches have 14 carbs each, which means 28 grams of carbs for the entire pitcher. At 8 servings, that's less than 4 carbs for each cup. While we don't usually drink our carbs, this peach iced tea one is totally worth it.
How to Make Ginger Peach Tea
Print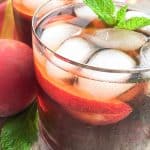 Ginger Peach Iced Tea
---
Author:

Prep Time:

5

Cook Time:

15

Total Time:

20 minutes

Yield:

6-8
Description
This is a refreshing drink for any day of the week! Add a splash or two of bourbon to make it Happy Hour.
---
Ingredients
8 c. water
6 organic black tea bags, paper tags removed
2 fresh peaches, pitted and cut into chunks
1 T. fresh ginger, finely minced monkfruit, to taste
optional garnish: 6-8 fresh mint sprigs
---
Instructions
Add water, tea bags, peaches, and fresh ginger to InstantPot and stir to combine.
Add lid and lock into place. Switch the vent to "Sealing" and set the "Manual" setting on normal for 5 minutes.
When finished, allow pressure to release naturally (NR) for 10-15 minutes, then do a quick release (QR) to allow the remaining pressure to escape.
Carefully strain hot tea mixture with a fine mesh strainer to remove the solids. Pour the remaining liquid into a large, heat-resistant pitcher.
Sweeten with monkfruit, to taste, and stir to combine. Cool slightly before serving over ice with fresh mint, if desired. Enjoy!
---
Notes
This also tastes good hot!
Have you made drinks in the InstantPot? Let me know by leaving a comment below!