Did you know that June is fresh fruit and veggie month? I have seen countless photos on my social media timeless of my friends out picking fresh berries and fruits. Sometimes picking fruit is pretty obvious. I mean, no one wants a smushed strawberry or a bruised apple, but sometimes, it's hard to know if the produce will taste great when you get home or not. So how do you know if a particular fruit or vegetable is going to be good? Well, there are some tips that will help us decide if your fruit and veggies are ready or not.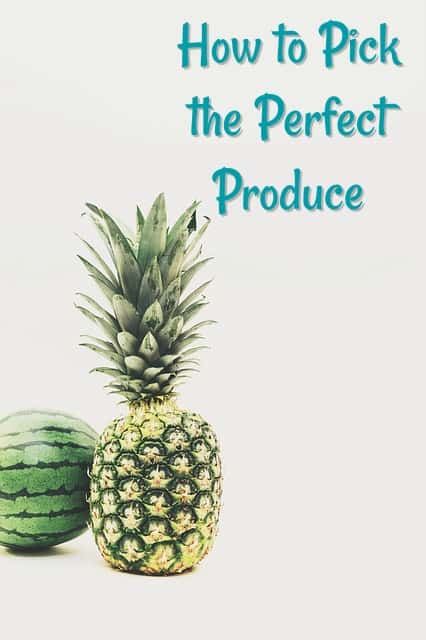 How to Pick the Perfect Produce
You've already learned how to harvest and dry herbs and how to preserve zucchini. You're well on your way to growing your own fruits and veggies, but you may need a little guidance on harvest time. We've all been there.
Here is a list that you can follow to help you pick the perfect produce:
How to Pick the Perfect Strawberries
Strawberries should be firm and plump

Avoid mush like berries or signs of mold.

Skin should be a deep red shade
How to Pick the Perfect Blueberries
Blueberries should be firm

Berries should be the same color

Shake the container that the berries are in, if the berries stick to the bottom, put them back.
How to Pick the Perfect Raspberries
Raspberries should be firm and plump

Uniform in color

Not mushy or moldy
How to Pick the Perfect Blackberries
Blackberries should be plump and firm

Dark, uniform color

If you are picking berries straight off of the bush, they will easily come off if they are ripe.
How to Pick the Perfect Watermelon
The watermelon should always feel heavy for its size

There should be a hollow thud when you thump the melon with your fingers

The yellow spot (where they have laid on the ground) should be creamy yellow
How to Pick the Perfect Cantaloupe
Like the watermelon, a cantaloupe should feel heavy for its size.

It should smell sweet, yet slightly musky

The rind should look raised netting
How to Pick the Perfect Honeydew
A honeydew should be a pale yellow color, avoid green honeydew melons as those are not yet ripe

It should also have a dull appearance. A shiny appearance indicates that it is not yet ripe
How to Pick the Perfect Pineapple
A pineapple should be firm to the touch

The leaves on the crown should be green
How to Pick the Perfect Coconut
A Coconut is another fruit that should be heavy for its size

Any sign of wetness or mold on the outside are a bad sign
How to Pick the Perfect Spaghetti Squash
Spaghetti squash should again, be heavy for its size

Look for a rind that is dry and has no cracks or soft spots
How to Pick the Perfect Acorn Squash
Acorn squash should have a good combination of green and orange color in the rind

Should be heavy for its size

Rind should be dull without any cracks or soft spots
How to Pick the Perfect Butternut Squash
Butternut squash should be beige in color

Avoid butternut squash that has any brown spots or deep cuts
How to Pick the Perfect Avocado
The perfect avocado is dark green

Yields to slight pressure
How to Pick the Perfect Broccoli
Broccoli should have bright green heads

Stems and stalks should be very firm. If you hold the broccoli up, the stalks should not droop

Look for tight clusters of the florets, if they are more open that means they are past their prime
How to Pick the Perfect Cauliflower
Cauliflower should be a creamy white color

Look for tight clusters of the florets

No brown spots or wetness

Make sure to smell for any musky or moldy odors
Now that you have picked out the best produce, check out some of the tasty recipes you can make with them:
Refreshing Blackberry Iced Tea
Refreshing Strawberry Iced Tea
PIN IT FOR LATER! 🙂