Homemade gifts are one of my favorite things – to give and to receive. These easy DIY sugar scrub bars make it super simple and affordable to give nice gifts at every holiday. You can mix the ingredients up any way you want (swap the sugar for coffee grounds, for example), and they're fully customizable to the person you're gifting them to. Or, you can make the scrubs and keep them allllll to yourself! I'm going to make grapefruit ones next time.
Easy DIY Sugar Scrub Bars
The best body exfoliator of all time is African black soap. It's my #1 beauty "secret" and I use it exclusively, but I miss the feeling of my textured body wash! Sugar scrubs can get messy, and they're easy to waste (can't count how much I've accidentally dropped… yay for exfoliated feet?) – so I set out to make a sugar scrub bar that won't make a mess.
What Does Exfoliating Body Wash do?
Have you used an exfoliating body wash before? If not, you are missing out! The purpose of exfoliating is to remove skin cells that are dead. I was horrified the first time I started scrubbing and getting all of the dead skin off. The truth is, though, you don't have to scrub! You simply rub the exfoliating scrub in a circular motion on your skin and it gets rid of the dead skin. If you haven't tried this before, you may have a LOT of dead skin that comes off – I know I did!
Benefits of Exfoliating Body Scrub
There are many benefits of exfoliating body scrubs! Most importantly, exfoliating is great at sloughing off the dead skin to reveal your new, healthier skin underneath.
A scrub works in a few ways: As you massage it over your body, the exfoliating granules help to slough off dead skin, and the rubbing action itself boosts circulation and helps drain your lymph nodes, by increasing blood flow to the skin's surface. Plus, after all that deep cleansing work in the shower, your post-wash moisturizer will be better able to soothe and hydrate your skin.
Another important benefit of using a scrub is how good it can feel in the moment. Being mindful of the refreshing texture against your skin and captivating scent that fills the shower allows you to enjoy the treatment as it's happening—an experience that can lift your mood and affect your outlook as you continue your day or evening.
Making your own scrubs will save you money. You'll also know exactly what's in the scrubs, instead of wondering and possibly having a skin reaction.
How Often Should I Exfoliate?
If you have sensitive skin, you'll want to stick to all natural exfoliators that you make yourself (like this one!) – and only exfoliate once a week. If you have combination or oily skin, you can exfoliate up to three times a week. I know some people say they exfoliate every day, but I've seen the best results with 2-3 times a week. My skin looks fresh and not over-exfoliated.
You shouldn't use an exfoliating body scrub if you're experiencing a rash or other skin condition – or are sunburnt.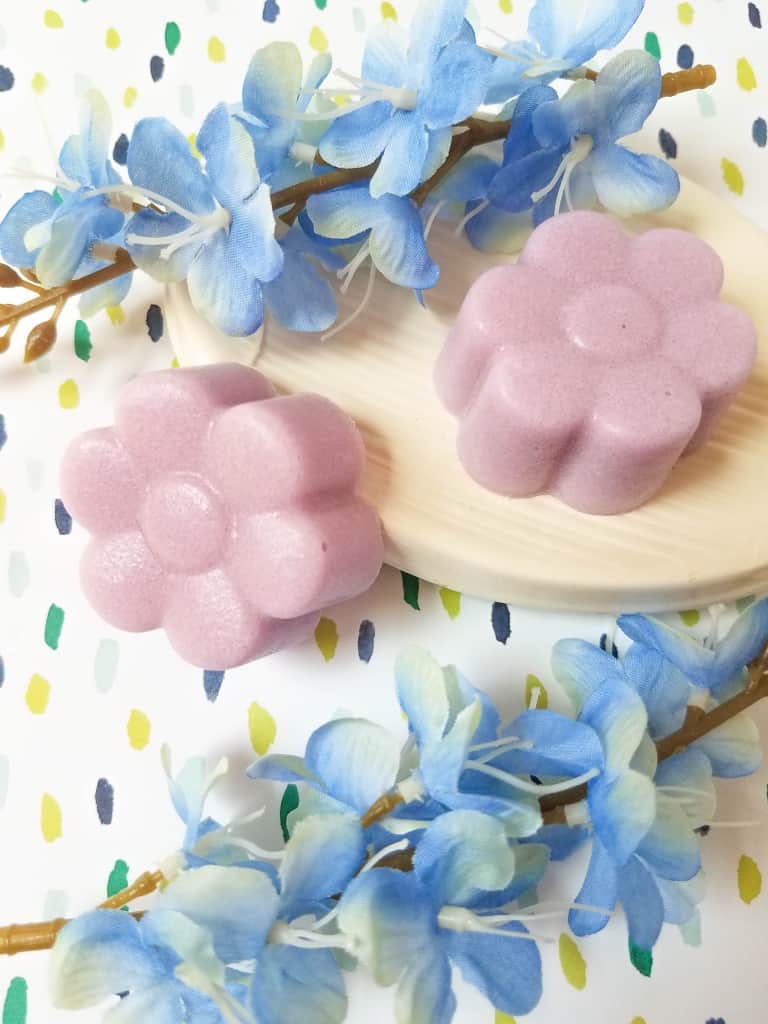 Flower Sugar Scrub Bars
Print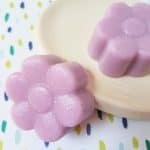 Easy DIY Sugar Scrub Bars
---
Description
Easy DIY Sugar Scrub Bars
---
---
Instructions
Melt your soap base in the microwave on high for about 15 seconds.
Mix in the coconut oil, sugar, essential oil, and soap colorant. Stir well.
If it is starting to thicken, put it back in the microwave for 5-10 seconds.
Pour into your mold and let set for about 2 hours.
Pop bats out of mold and store in an airtight container.
---