You're going to be in heaven with this low carb pot roast. Yes, we made it in the Ninja Foodi! You can also easily make it in the Instant Pot.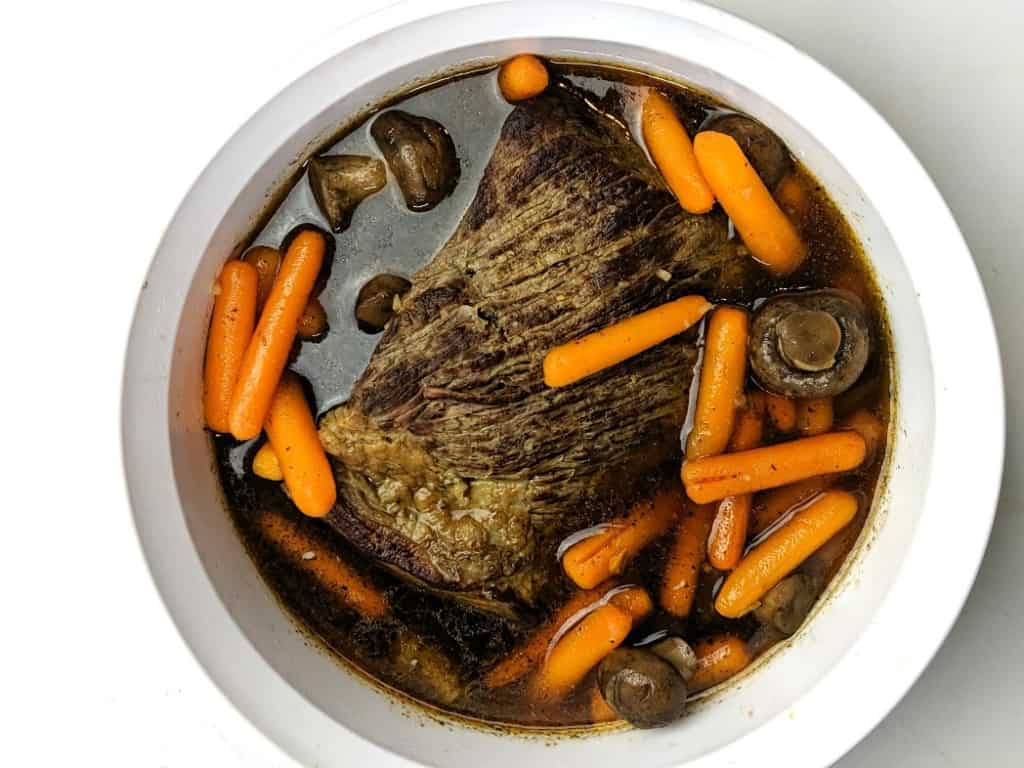 There are many benefits of a low carb diet. I eat low carb because I feel better when I do. Whatever your reason, I love that this recipe is naturally low carb! Nothing fancy.
Low Carb Pot Roast
Beef roast, or pot roast, is naturally low carb. What people add to it (potatoes) and eat with it (biscuits) are not low carb. This low carb beef roast is super simple and easy to make. Because I live a low carb lifestyle, this isn't specifically a keto recipe. I find my life is much better when I have around 50g of carbs a day rather than less than 20. If you're following keto, you may want to eat less carrots with this pot roast. Mushrooms are super low carb – yay!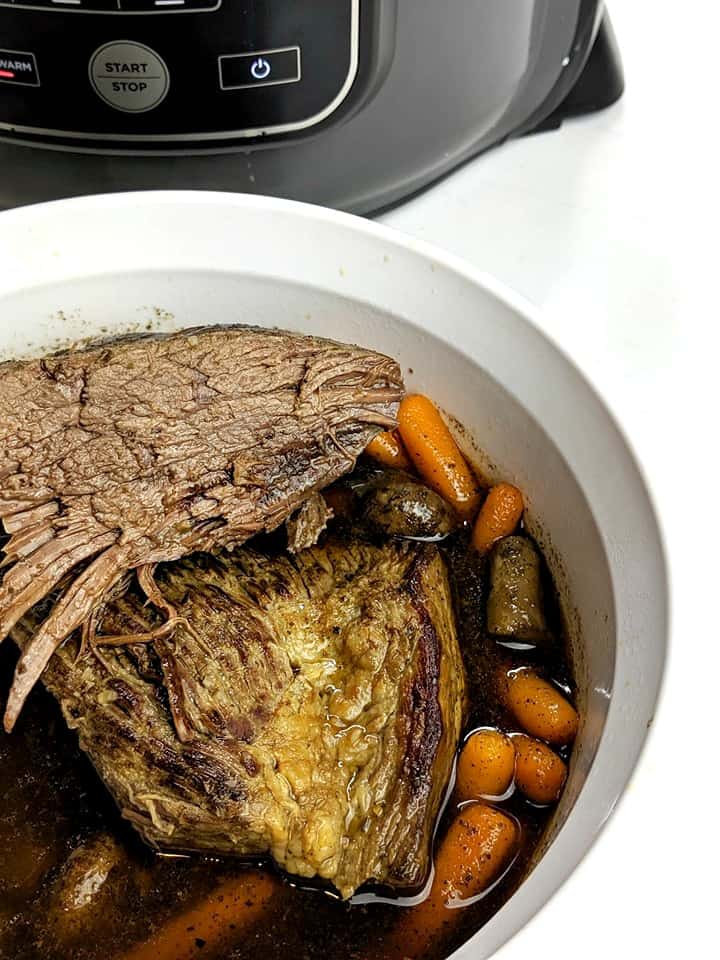 How to Make the Best Low Carb Pot Roast
The best low carb pot roast starts with, you guessed it, the best meat. It's a bit more expensive to buy the good stuff, but it's worth it – from taste to nutrition. You want to pick out a nice chuck roast with decent marbling from the fat and connective tissue. This is the key to a tender pot roast. I've used other cuts of meat and they just don't do the whole melt-in-your-mouth thing I love.
Searing your beef prior to cooking it is going to help seal in the juices and increase the flavor. The key to a good pot roast is always lots of flavor.
When seasoning your pot roast, be generous! I always put in twice as much black pepper as I think I need, because it tastes better. While following my pot roast recipe, I encourage you to add your own spices and really make it your own. I like to add a few tablespoons hot chili sauce to my broth mixture to kick the flavor up a notch. I didn't include it in the recipe because people tend to FREAK out over spice… but add whatever you'd like!
Don't overcook your vegetables. Nobody likes mushy veggies! Well, maybe some people do, but I don't. I like my carrots to have a little bit of texture to them, so I only cook the vegetables for two minutes – though I have accidentally left them in for longer without issues. After about five minutes, though, you're making more of a soup/mush of them.
If you like your sauce thick, you can thicken the broth and make it into more of a low carb gravy by using xanthan gum instead of flour.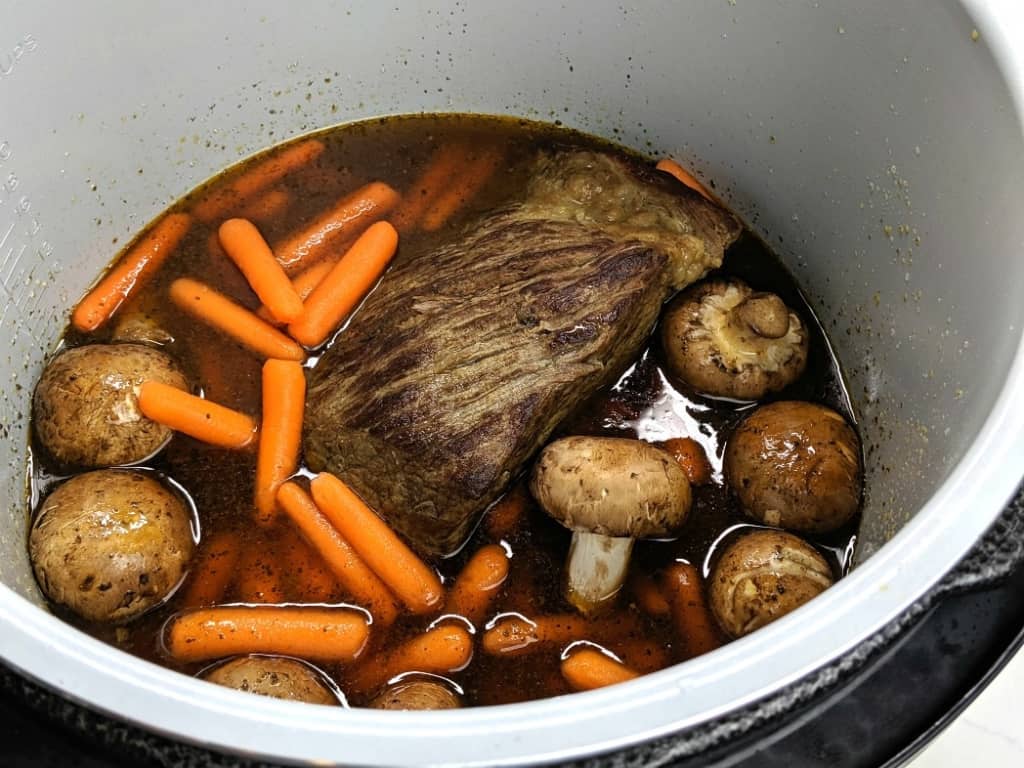 Low Carb Pot Roast in the Slow Cooker
While the Foodi and Instant Pot do make delicious pot roasts, the slow cooker is another great option. Season and brown the meat, then add all ingredients to your slow cooker. Cook on low for 6 – 8 hours. The slow cooker is good for pot roast because it makes your house smell good allllll day long. It's also a nice option if you work, because you can take five minutes to prep in the morning and dinner will be ready when you get home.
No matter which method you use to cook your pot roast, it's going to turn out tender and flavorful if you use this recipe!
Ninja Foodi Pot Roast VS Instant Pot Pot Roast
When it comes to the Ninja Foodi VS the Instant Pot debate, the Ninja Foodi wins hands down, every time. I've cooked MANY recipes in the Instant Pot, and half a dozen or so in the Foodi, and the Foodi is just plain better. It comes to pressure faster, and the air crisp option makes everything taste better! I didn't use the air crisp option here but on most recipes I do.
The Foodi is heavier and sturdier, it takes up less counter space than the Instant Pot and Air Fryer combo, plus it replaces your slow cooker and dehydrator. There's no way to even compare the two, to be honest. Yes, they're both pressure cookers. Beyond that, they're very different. I love the Foodi's non-stick pot, and the ease of use with the buttons. The only complaint I have about the Foodi is it that the "beep" when food is done is not loud enough, so I set an alarm on my phone. Other than that, the Foodi is a 10/10 for sure! The Instant Pot, I'd say is a 7/10.
Low Carb Pot Roast Recipe
Ingredients needed for pot roast are simple. Like I said above, you can add more or less of the seasonings and you can even come up with your own. My kids like things a bit spicy. If yours do, too, consider adding a little sriracha to your broth mixture.
NOTE: This recipe says to cook for an hour. If you want it to really melt in your mouth, leave it in for up to 2 hours but add a little more water or broth when you put the roast in the Foodi.
6g carbs for the entire recipe (from the carrots)
Print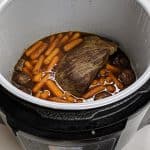 Low Carb Pot Roast – Ninja Foodi Recipe
---
Cook Time:

65

Total Time:

65

Yield:

6

1

x
Description
How to make a low carb pot roast in the Ninja Foodi or Instant Pot
---
Scale
Ingredients
2 tbsp

vegetable oil

3

lbs chuck roast

1 tsp

salt

1.5 cup

s beef broth
.5 tsp sage
.5 tsp black pepper

1 tsp

crushed red pepper

1

lb baby carrots

1

lb mushrooms
---
Instructions
Select Sear/Saute on your Ninja Foodi (or Instant Pot). Press Start and allow pot to preheat. This will take 3-5 minutes.
Add vegetable oil to pot. Cook for 2 minutes.
Sprinkle salt on both sides of the beef roast. Pat dry, add beef to preheated pot.
Heat the beef for 3-5 minutes on each side (until brown). Transfer beef to wire rack.
If there is any oil left in the pot, empty it. Add beef broth, sage, and peppers. Bring to a boil.
Add the beef back to the pot. Close Pressure lid, adjust pressure to "HI" and cook time 60 minutes. Press Start.
Use quick pressure release. Add carrots and mushrooms. Close lid and cook on "HI" pressure for 2 minutes. Use quick release.
---
Notes
The Foodi cookbook says to cook for 35 minutes but my pot roast was still very pink at that time. I have also tried this at 90 minutes and it is tasty. Beyond that, I have found it gets dried out and more like jerky. This will also depend on the size of your roast.
Keywords: low carb, ninja foodi, instant pot
Serve with blackberry iced tea, replacing the sugar with monkfruit.
PIN IT FOR LATER! 🙂